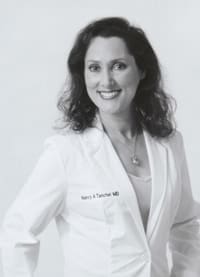 Northern Virginia eye doctor Nancy A. Tanchel, M.D., the medical director of Liberty Laser Eye Center, is one of a select few full-time refractive LASIK surgeons in the country and she is one of the only women in the field. Dr. Tanchel was the first woman in the world to have the femtosecond laser in her Tysons Corner center. She earned degrees from Emory University and Johns Hopkins.  Liberty Laser Eye Center is the best LASIK center in Northern VA with the best equipment and affordable pricing
Dr. Tanchel has been dedicated to refractive eye surgery for many years and has performed more than 30,000 LASIK, All-Laser LASIK and PRK procedures –more than any other woman in America.
"I have the best job in the world. I get to help people enjoy their lives more on a daily basis. Right after LASIK eye surgery I see smiles, then real joy the next day when my patients come in for their first post-op visit, seeing great. How wonderful is that?"
As a Northern Virginia eye doctor specifically located in the town of Tysons Corner VA. Dr. Tanchel has dedicated her life to a helping those with vision problems. The combination of the most advanced laser eye equipment available and Dr. Nancy Tanchel's years of LASIK eye surgery experience culminate into the best care a Northern Virginia or Washington DC patient could possibly ask for.
Dr. Tanchel's Curriculum Vitae
To find out if you're a good candidate for LASIK eye surgery, contact our office at 571-234-5678 or use our online contact form.
Schedule your FREE CONSULTATION