When racing down an icy mountain side at 80 miles per hour, vision is everything.
"I was supposed to get an eye surgery earlier this year," Skier Bode Miller now famously said, after a disappointing eighth place finish on Feb. 9 at the Olympic Games in Sochi, Russia.
Miller, who has won five Olympic medals previously, said he put off getting LASIK eye surgery due to his busy schedule and training for the Olympics in Sochi.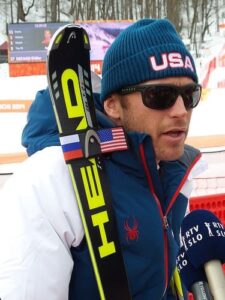 Photo credit:  Some rights reserved by Val 202
"We just never found the time to do it because the race schedule was so tight," Miller told reporters. He added that he was pretty upset that he hadn't figured out a time to do that, because for his sport and himself vision is critical.
The downhill training sessions were held in sunny conditions, but clouds moved in for race day. Bode said tricky visibility affected his style of skiing and he simply could not compete with the other skiers that day.
Photo credit:  Some rights reserved by Kevin Pedraja
 We at Liberty Laser Eye Center see every day what a huge impact laser vision correction can make . Not all of us race down snowy mountains, but the difference improved vision makes for everyday activities such as driving your car at dusk or watching TV without glasses.  Our patients certainly notice the difference.
No time? Not an excuse.
Laser vision correction requires not much downtime at all – 99% of our patients are comfortably and clearly watching TV within 2 – 4 hours after the procedure, and driving the next day without any problems. Most people return to work and normal activities within 48 hours after their LASIK procedure. We want to see our patients for a post-op appointment the next day. No rubbing the eye! No swimming or contact sports for at least one week and avoid excessive use of alcoholic beverages for a few days following surgery as it causes dehydration, therefore, increasing dry eye symptoms. You will be provided with specific post-operative instructions from our patient counselor prior to your treatment. Dr. Tanchel may offer specific advice depending on your lifestyle, interests, and clinical exam. Other than that people are up and about quick, with perfect to near perfect vision, in no time.
Safety: 25 years of refining the procedure make it a fairly safe surgery
Liberty Laser Eye Center is a leader in laser vision correction and Dr. Tanchel is one of the most experienced LASIK surgeons in the country. Dr. Tanchel and her team strive to be the finest – and the first – while using the best equipment in the world. And over the past 25 years laser vision correction has become a refined surgical procedure that is considered extremely safe. The center is the first in the region to offer the new Z-LASIK with faster healing and visual recovery for All-Laser LASIK patients. We are proud to offer state-of-the-art LASIK surgery in Washington DC and the Mid-Atlantic Region.
Cost: Investing into your eyesight
We rely heavily on our sense of vision. You wouldn't want cheap heart or brain surgery, so why would you want to do cheap LASIK surgery? Think of the price tag rather in terms of a long-term investment in your vision. Saving up or using methods such as a flexible spending plan or other ways to finance the surgery are good option. Putting it off can cost you in other ways – as Bode Miller would probably attest.
For Bode's full story, please click here.
Call Liberty Laser Eye Center to learn more or for a free consultation call us at 571-234-5678.