Liberty Laser Eye Center continues to pioneer eye surgery technology
with brand-new topography guided excimer laser system – first in the U.S.
The average sci-fi action hero might get a little envious of the significant laser power that Liberty Laser Eye Center has to offer. Our laser eye surgery center boasts the most advanced technologies available in laser technology.
Not bad for a small private eye surgery center in Tyson's Corner, Va. – and we are especially proud of our latest addition.
In the middle of March, we installed our brand-new topography guided excimer laser system.  It was the first installation of this FDA-approved equipment in the U.S., and will allow us to improve the vision of some patients who were not considered good candidates for laser eye surgery in the past.  It also allows us to help people who developed night vision problems or other difficulties with treatments on other types of lasers in the past.
Our surgeon, Dr. Nancy Tanchel, has been on the forefront of Lasik eye surgery for years, and has been pioneering the use of this kind of cutting-edge technology in the Washington, DC area.
Here is some of the technology used for laser vision correction at Liberty Laser Eye in addition to our new topography guided excimer laser system:
All-Laser LASIK: All-Laser LASIK is a true advance in vision correction surgery.  The femtosecond laser eliminates the most serious risks associated with the LASIK procedure. Originally LASIK procedures were performed by using a hand-held mechanical razor blade. Due to complications from the original LASIK procedure, all-laser technology was developed for added precision. Liberty Laser uses Z-LASIK, the most technologically advanced form of all-laser LASIK. Dr. Tanchel has been using the most advanced femtosecond lasers for over 10 years, and she has the experience to get the most from the technology with unsurpassed results for our patients.
Liberty Laser Eye Center was the first in 2008 to acquire the Femto LDV femtosecond laser in the region.  This is the newest generation laser for creating an All-Laser LASIK flap.  It creates a smoother flap and is easier for the patient during surgery.  Due to its unique hand-held laser delivery system, which is attached to an easily maneuverable articulated arm, patients can be treated on the patient bed of the excimer laser and do not have to be relocated between flap creation and ablation procedures as in the past with the intralase laser. The surgeon can perform and control the entire procedure from a single working position, without having to move about or change microscopes.
Z-LASIK is a completely different treatment in fundamental ways. Ziemer's FEMTO LDV is not just another femtosecond laser like Intralase, Femtec, or Zeiss. Compared to these conventional femtolasers, the FEMTO LDV operates at pulse rates that are many orders of magnitude higher, pulse energies that are much lower, and delivery optics that are very tightly focused for maximum flap creation in the focal spot and no thermal or radiation effects to the surrounding tissue. With the combined use of state of-the-art lasers and diagnostic equipment, Z-LASIK provides the best currently available treatment for superior vision correction.
Presby-LASIK: P-LASIK is a great advancement in treating patients age 40 and over who have developed trouble reading. P-LASIK seems to work by restoring negative spherical aberration to the eyes. This wavefront pattern is natural in younger eyes and changes as we age. The increased negative SA provides a greater depth of field. P-LASIK is not monovision, since both eyes see the same.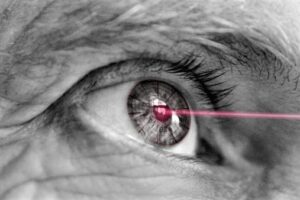 We are currently the only doctors offering this service in the Northern Virginia area.
Dr. Tanchel waited for some colleagues to perform a few hundred cases on the west coast and followed their results attentively. Once she was sure that the procedure was safe and effective, she started performing P-LASIK here at Liberty Laser Eye Center.  Dr. Tanchel was the first and is currently the only surgeon able to perform P-LASIK in this region.
Wavefront Analysis: The key to correcting your vision is understanding your individual vision performance. Wavefront Analysis allows us to diagnose the necessary changes needed to make your vision clearer and sharper. It is a major innovation that provides Dr. Tanchel with more precise, comprehensive data on the patients' visual performance.  Wavefront data goes beyond Snellen acuity that is read on an eye chart and brings vision correction technology into the 21st century.  Utilizing this data, we can optimize vision to be generally sharper, as well as clearer in dim light.
We then take measurements with the Nidek OPD-scan.  Multiple detailed maps are compiled which describe the optical performance of the eye.  This information is used to guide the laser treatment.  When coupled with the Z-LASIK flap, which decreases flap related wavefront aberrations, this is the most accurate treatment available.
Better technology for better results: At Liberty Laser Eye, we have the technology and expertise to restore your vision and lead a happier life. We've performed LASIK procedures on thousands of our patients without a single vision threatening complication.
Schedule a free consultation to determine if you're a candidate for LASIK surgery online or call (571)234-5678 to speak with a representative. Call today to take the first step to freedom from contacts and glasses!